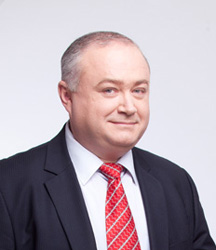 Dan joined Ganes as a Partner in 2013. He coordinates our work related to developing and implementing projects assisted by EU and Government funds.  Dan's team enable our clients to access a wide variety of available grants, working with them every step of the way, from determining project eligibility to full implementation. In five years consulting activity in the area of EU and Government funds, Dan coordinated investment projects supported by grants worth over EUR 350 Million.
Dan is a graduate of the Bucharest Academy of Economic Studies, Faculty of Finance, Banking and Accounting. A Chartered Accountant since 2000, a Tax Consultant since 2008 and a Business Evaluator since 2010, Dan's experience in finance spans over 20 years. He has also worked for 12 years in financial and business management, having held positions of financial and administrative director in multinational companies.
Dan can be reached at dan.costan@ganes.ro or +40 722 539 674.