GDP – Significant Growth Potential
Romania recorded in Q3 of 2013 the strongest growth in the EU, at 1.6%, followed by Latvia with 1.2%.
IMF prognosis for 2013 – 2% and for 2014 – 2.2%.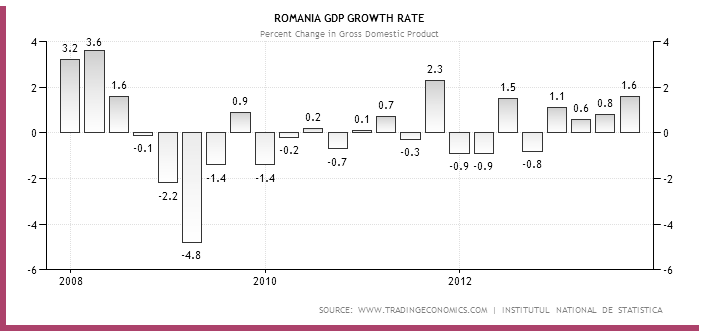 Inflation Rate
The inflation rate in Romania was recorded at 1.83 % in November of 2013.
In the Euro area, in July 2013 the annual inflation rate remained stable at 1.6%, while EU annual inflation remained stable at 1.7%.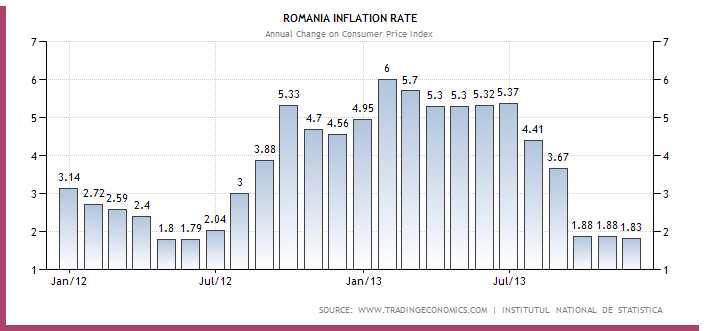 Hungary 5.7%
Slovakia 3.7%
Poland 3.7%
Czech Republic 3.5%
Romania 3.4%
Slovenia 2.8%
Bulgaria 2.4%
EU 27 2.6%
Average Inflation Rate 2012
Target 2013: 2,5%

Cost of Labor
Romania will preserve its competitive edge offered by the cost of labor.
In May 2013: gross nominal average salary gain was EUR 465, net nominal average salary gain was EUR 366 – second lowest place in EU
Romania is last but one in Europe at the minimum wage witch is 180 euros gross, and below us is Bulgaria, with a minimum wage of 158 euros gross.
The highest minimum wage in Europe is in Luxembourg- 1,874 euros gross, followed by one in Belgium – 1,502 euros gross.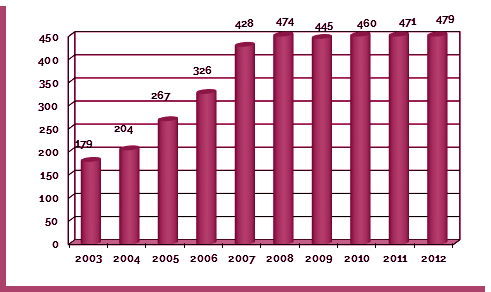 Romania Unemployment Rate
The unemployment rate reported in Q3 2013 is 7.50%.
Romania ranks 3rd place in the EU for the lowest unemployment rate recorded in 2012 (6.8%). The first place is Luxembourg, which last year had 0.4% fewer unemployed than Romania.
Exports
Romania ranks 6th in Europe for export figures, according to an Econtext analysis.
The first 6 places are occupied by Latvia, Estonia, Lithuania, Malta, Bulgaria and Romania.
Romania ranks 57th place in the World at Value of Exports in 2012 – 58.1 bn $ ~ 42.2 bn €.
The first position in the world is the EU, with 2.170 bn $ ~ 1555 bn € , followed by China, with 2.057 bn $ ~ 1495 bn €, according to the CIA.
By the end of 2013, FOB exports totaled 141.02 billion lei (32.02 billion euro)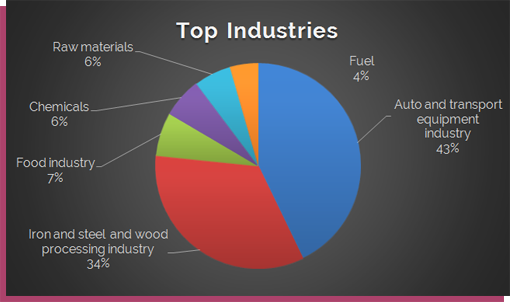 Romania`s main exports partners are other European Union members with Germany, Italy and France being the most important.
Top Products
Motor vehicles (6.7% of the Romania's exports, going up by 45.9% vs. the same period of 2012) ,Car parts and components (7.3%), Cables, insulated electric conductors (5.9%), Wood furniture (3.5%). Oil products (3.4%) ,Tires (2.4%), Medicines (1.9%)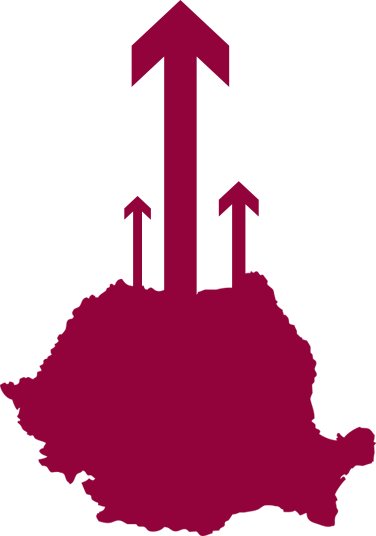 Imports
Romania ranks 44th place in the World at Value of Imports in 2012 – 67.5 bn $ ~ 49 bn €.
The first place in the World is occupied by the EU, with nearly 2.400 bn $ ~ 1.745 bn €, followed by the U.S. with 2,300 bn $ ~ 1,670 bn €.
In the first 9 months imports decreased by 0.3%.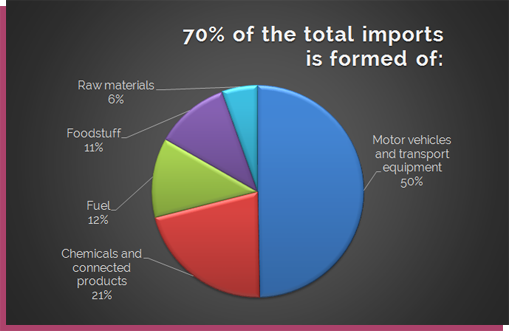 Main imports partners are Germany, Italy, Hungary. France is the most important partner. Others include Russia and Turkey.
Top products Oil and natural gas, oil products , Foodstuff (7.9%), Motor vehicle parts (4.1%) , Medicines (4.1%), Cables, insulated electric conductors (2.2%), Phoning equipment (1.9%)

Which are the most attractive countries in Europe in the next three years?
Source: Ernst&Young European attractiveness survey 2012 Total respondents: 840 Countries were assessed on a scale from 1 to 5 by the top representatives of certain international companies
Competitive Edge
Romania is ranked 73th of 189 countries in the "Doing Business" (attractiveness of the business environment). The first place ranking by the World Bank is, as in the past 4 years, Singapore.
Romania ranks 69th in the World at Volume of Foreign Investments – received a total of 2.7 billion $ ~ 1.94 billion € . The first place is U.S.A. with 4,500 billion $ ~ 3,270 billion €.
The largest market in South Eastern Europe and The second largest market in Central and Eastern Europe.
One of the biggest national markets in the EU (9th in terms of size and 7th among EU Member States whose stable population exceeds 19 million inhabitants).
Romania ranks 3rd in the EU after the VAT of 24%. The first position is Hungary with a single rate of VAT of 27%.
Romania ranks 3rd lowest in the EU after income tax charged 16%. The first position is Bulgaria with 10% and Lithuania by 15%. Hungary is on par with Romania, according to KPMG.